About Notes2
Notes 2 is a convenient tool allowing you to create virtual sticky notes for basic Outlook items such as email messages, contacts, appointments, tasks and meetings. This handy software solution is designed to modify your notes, manage them, and customize their appearance. It also provides the possibility to attach files to notes, and to insert the content of the note while replying or forwarding emails. If you are looking for time-saving means while writing notes, this Microsoft Outlook plug-in is just for you.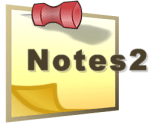 Copyright ©2006 4Team Corporation. All rights reserved.

We would like to extend a special "thank you" to our many customers in the USA, the United Kingdom, Australia, Belgium, Germany, Switzerland, France, Singapore, and other countries for using our programs.

Notes2 demo

Notes2 website